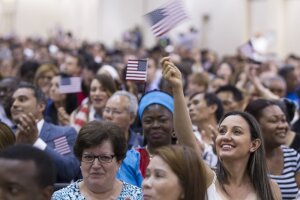 The report was prepared by the National Academies of Sciences, Engineering and Medicine. It reviewed immigration trends of the last 20 years to determine the economic impact of the more than 40 million people living in the U.S. who were born in other countries. Overall, the report said, the impact has been positive.
There are short-term losses as first-generation immigrants take more money from state, local and federal governments than native born citizens. The children of immigrants can be costly to educate. As adults, however, the children of immigrants provide a huge boost to the economy, contributing more to the government in taxes than their parents or native-born citizens.
The report also found that immigrants did not reduce the job prospects for native-born workers. Over a period of 10 years or more, immigration was found to have only a small effect on the wages of native-born workers. Those who are affected the most are prior immigrants or native-born workers who lack a high school degree.
"The panel's comprehensive examination revealed many important benefits of immigration — including on economic growth, innovation, and entrepreneurship — with little to no negative effects on the overall wages or employment of native-born workers in the long term," Francine D. Blau, professor of economics at Cornell University and chair of the panel that wrote the report, said in a statement.

Read more >